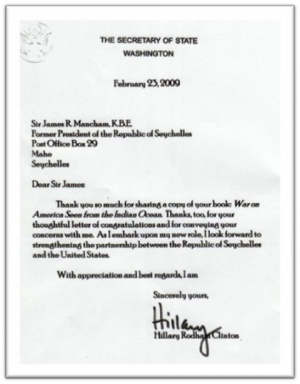 American dream seen from Seychelles
15.11.2016
On Wednesday 9th November, 2016, it was confirmed that following a melo-dramatic campaign that Donald Trump had been elected the 45th President of the United States of America. Although Hillary Clinton had received more popular votes at the national level than Mr Trump, the American system delivered more colligates support to Donald Trump and in fact the Republican Party succeeded also to win a majority of seats in both Congress and the Senate.
Following this election which left the USA sadly divided, it was pertinent to observe that in the final analysis, President-elect Trump, Hillary Clinton and the current President Barack Obama all spoke within the spirit of "The Americans dream is big enough for everyone," and that the system would allow the US to see a peaceful transfer of power. I do hope so!
Seven years ago when Hillary Clinton was made Secretary of State by President Barack Obama, I sent her a copy of my book 'War on America – seen from the Indian Ocean' which I had written to help Americans understand how people in other parts of the world are impacted by a United States' foreign policy that often seems arbitrary, self-serving and inconsistent with the ideals of democracy. My comments were considered as informative and constructive for anyone interested in creating a better world and a more coherent US foreign policy that will lead to a more peaceful world, prevent a recurrence of terrorist attacks on America and revive the high prestige which the USA enjoyed internationally during the time of President John F. Kennedy.
What were the concerns I was conveying to Secretary of State Clinton?
Well, as is common knowledge, I have made it a point of principle over the years to criticize the US Government for abruptly closing down its embassy in Seychelles at the end of the Cold War. During that period, the US operated a US Tracking-cum-Spying Station on the island of Mahé and had established an embassy in Seychelles with a fully accredited Ambassador.
The reason given by the then Secretary of State Madeleine Albright was that the money spent on an embassy in Seychelles was required for her to open up embassies in such cities as Sofia in Bulgaria and Bucharest in Romania after the break down of the Soviet Union. This of course sent to us in Seychelles the message that the embassy in Seychelles was only there to serve what the US perceived as its national interest as opposed to promoting and maintaining friendly ties with our people. It was a case of a powerful big brother slapping a small brother in the face.
In February 2009, Secretary of State Clinton in her letter to me stated – "…..As I embark upon my new role, I look forward to strengthening the partnership between the Republic of Seychelles and the United States….."
That this appears to be the case is revealed in the message of congratulations which Seychelles actual President Danny Faure sent yesterday to President-elect Donald Trump – "…...Our two countries enjoy a long history of deep rooted ties and friendly relations. Over the years, this esteemed partnership has been invigorated by mutual values such as social progress, justice, freedom and equality which have served to support and reinforce the foundations from which we draw our common perspective….."
However, President Faure made it a point not to mention the field of diplomacy. Sadly to say that up to now the United States have still not reopen its embassy in Seychelles. If China, India, France, Russia, the United Kingdom and even Cuba can justify their embassy here, I see no reason as to why the Seychelles should be a 'blank spot' on the US Ambassadorial map. The argument that it cannot afford to do so because of budgetary constraint is not justifiable nor reasonable. Seychelles is a neighbour of Diego Garcia where the US has established a sophisticated naval-cum-airforce base. The US naval ships are regular visitors to Port Victoria and until some months ago, the US was utilizing Seychelles as a base for its drone operations within the region.
I do hope and pray that after settling down President Trump and his Secretary of State will call for the dossier of US-Seychelles relationship.
So far as President-elect Trump himself is concerned, I remember meeting him once at a social reception I was attending at the magnificent and impressive Trump's Tower which he had financed and constructed in New York City. This multi-million dollars edifice at that time was the most-talked about development in New York.
I remember the next day scribbling in the little book of maxims which I was carrying to pen up my thoughts and reflections as I travelled across the USA on a lecture tour – "Trump's Tower in New York is a magnificent symbol of man's achievements on Earth – but the green creepers which have been planted to adorn its tall walls, remain a perpetual reminder of nature's greater force and of God's overriding power."
I do hope that in discharging the high office of the 45th President of the United States, President Donald Trump will always be mindful of "Nature's greater force and of God's overriding power," in a USA which is today crying for national unity – in a USA which today needs more of an holistic rather than a materialistic leadership.
May God continue to bless America.
Sir James R. Mancham
Founding President of the Republic of Seychelles
Recipient of the Gusi Peace Prize for Statesmanship – 2011
Recipient of the Africa Peace Award - 2016
(Courtesy: Mahe Publications Press Service)
» View all